Discover more from Studio Symoné
Studio Symoné is a newsletter by multimedia reporter and author Darian that covers beauty at the intersection of politics and pop culture through breaking news, trends, and personal experiences.
Over 4,000 subscribers
Beauty Brands In Response to Black Life and Police Brutality
What's next? UOMA Beauty's Sharon Chuter has a suggestion.
To say this week has been difficult would be an understatement. Thankfully, I've found some refuge (and purpose) in my work. Thanks for reading. — @darian
---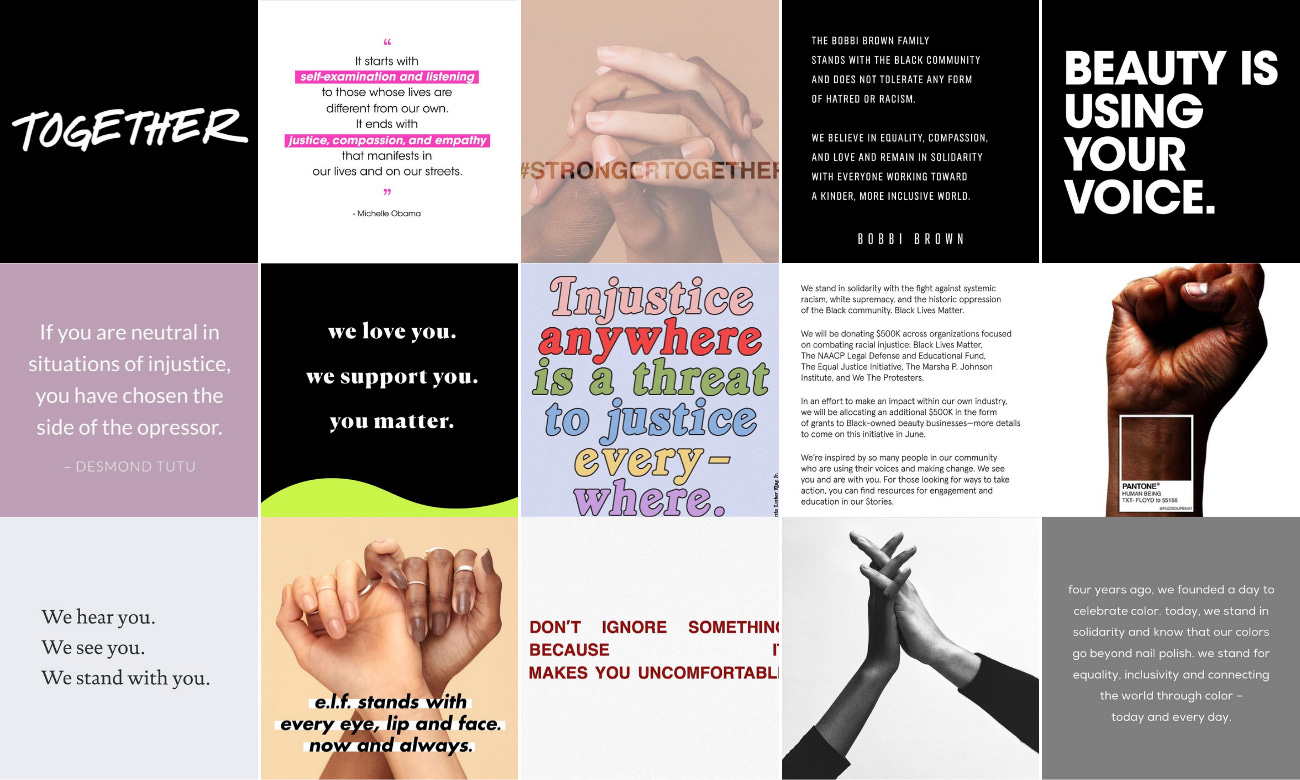 On Monday, I released a BEAUTY HEADLINES that covered a few of the ways beauty brands are responding to the killing of black people across the county at the hands of police brutality and ultimately, white supremacy.
In addition, I released a tool: an excel doc that tracks the initial responses of beauty brands carried at large beauty retailers on their Instagram feed. What started as a document for myself and Dyana Larios (who I produce BH with) to keep track of how brands react in an organized way for our own use, turned into something we thought should be released for others to view as well.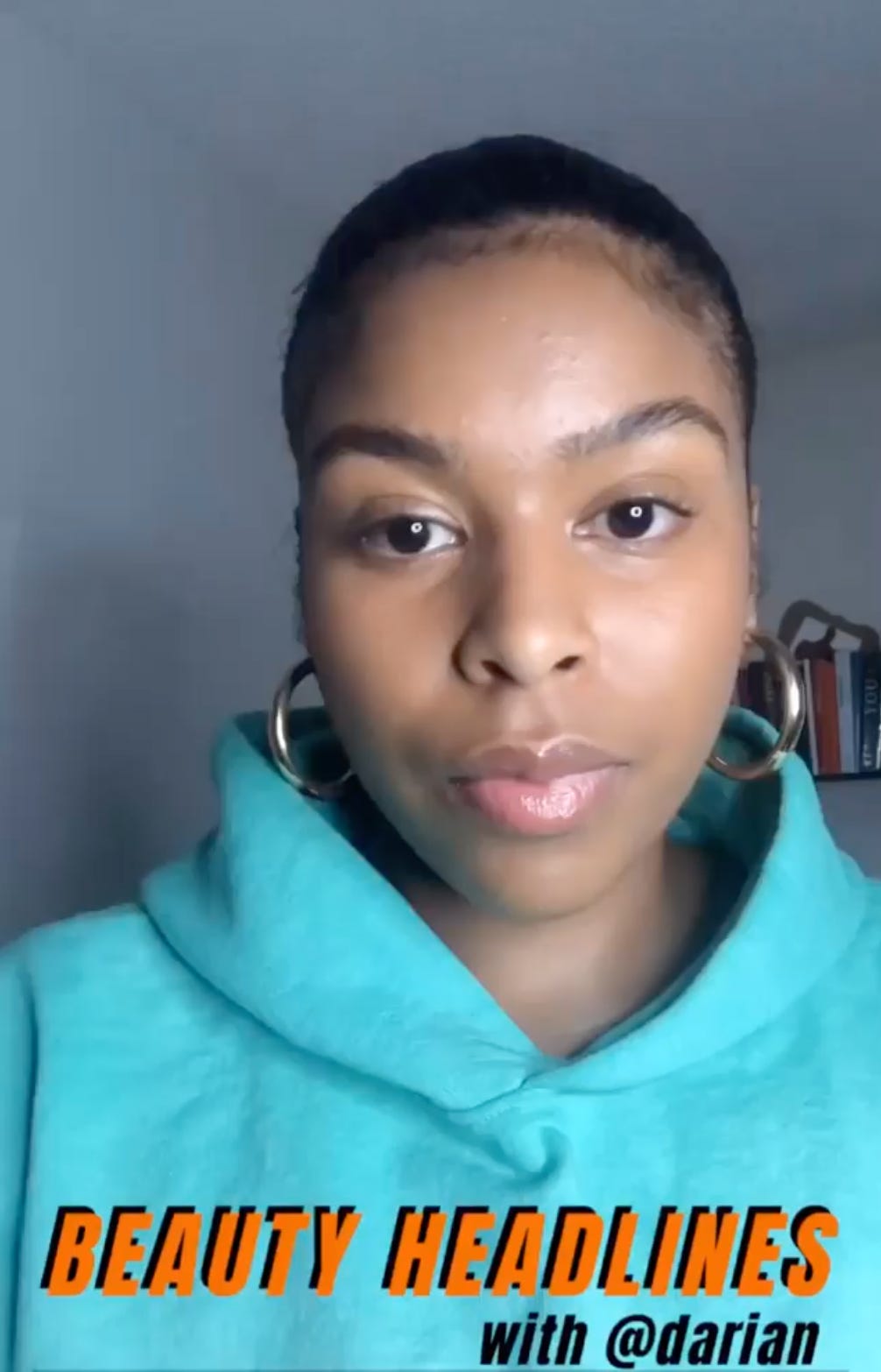 A lot of conversations within the beauty community are still in motion, but there is one development I see arising. On Wednesday, following the slew of beauty brand PR statements, Founder of UOMA Beauty Sharon Chuter urged consumers to urge brands to #PullUporShutUp. "Please ask them how many black employees they have in their organisation (HQ and satellite offices ONLY) and how many black people they have in leadership roles. For the next 72hrs DO NOT purchase from any brands and demand they release these figures," she said in a subsequent IG post. Sharon also created the @pullupforchange Instagram account (it was created two days ago) where beauty brand responses are being reposted.
MILK, e.l.f. and The Crayon Case Cosmetics are the first brands to be reposted by the account since I sent hit send on this newsletter.
Beauty influencer and entrepreneur Jackie Aina posted a video in support of Sharon to her 1.6 million followers.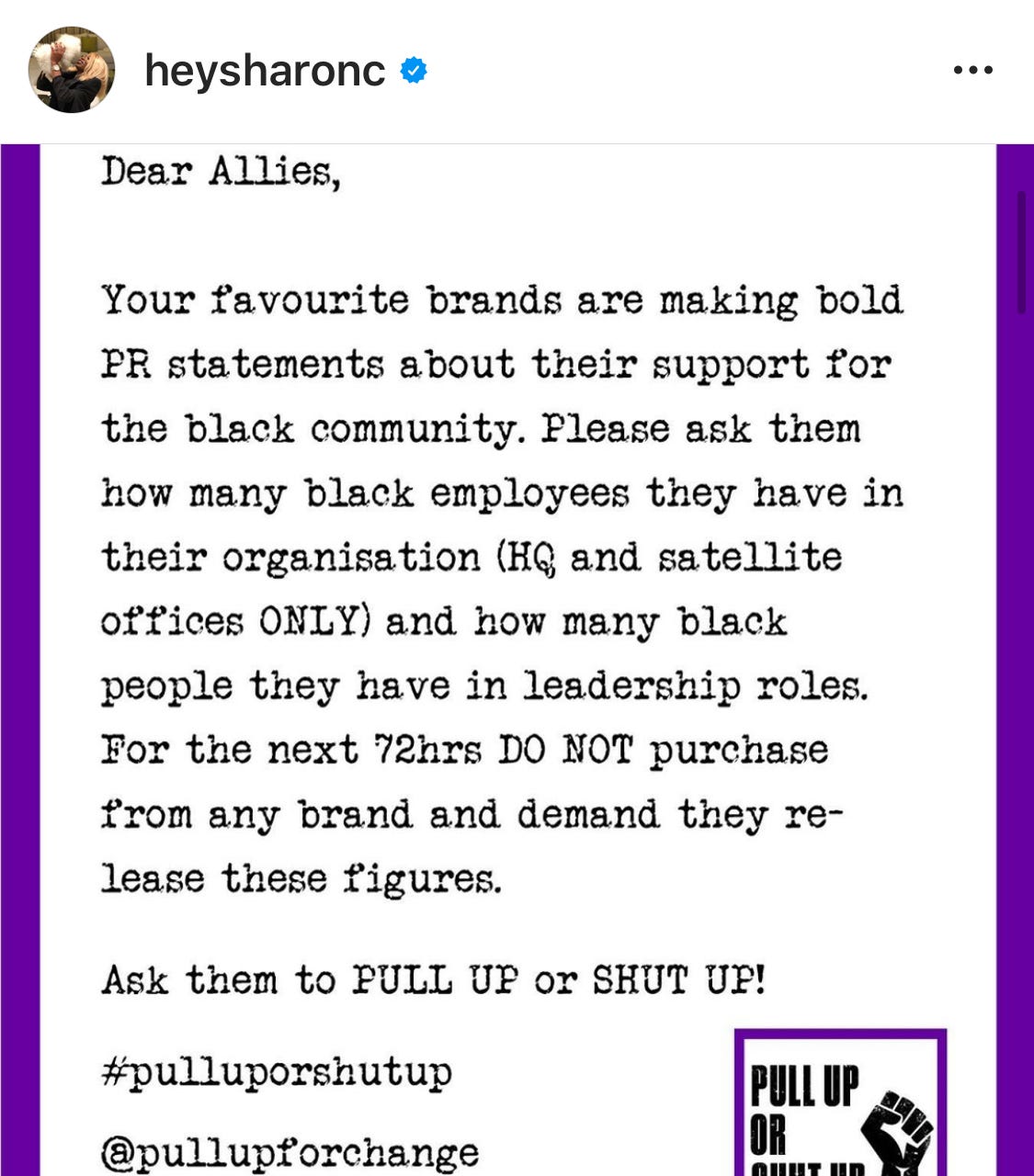 We are still in the thick of so many conversations and so much movement. Sharon's statement and call to action is, so far, the biggest development I have seen beyond brands pledging to donate hundreds of thousands of dollars to organizations and charities. Her role in this is important for two reasons:
The message comes from a Black-owned brand. (Sharon is a Nigerian born woman who worked across London, Australia, and Los Angeles.) I have been thinking a lot about the role of Black-owned beauty brands in all of this. It seems Sharon is taking the lead on one route.

Sharon is essentially asking brands to go beyond giving money, and to do something much more difficult in hopes of creating diverse, safe working environments: Shine a bright light on their own potential failures, deal with the reaction, and pledge to do better.
In the coming weeks, expect more developments. For example: How are Black emloyees at beauty brands feeling right now? How is the company they work for leaning on them in such a crucial time? How is this pressure affecting them? (If you're a Black employee at one of these brands, I'd love to hear from you.)
Again, we are still in the midst of so many conversations and initiatives in motion. I'll report back.
BEAUTY IRL is a newsletter by freelance reporter Darian Harvin. If you've learned something new from this newsletter, consider contributing to the digital tip jar. No amount is too small.

More details

 on the virtual tip jar and why it exists.
ABOUT DARIAN: This newsletter is written by Darian Symoné Harvin. Darian is a multimedia beauty reporter and social media editor using her journalism and curatorial skills to craft narratives and distinct takes on beauty, pop culture, and the intersection of both. So far, her career has been dedicated to working on thoughtful and virals ways to present news and content to people on the internet and IRL, for platforms like BuzzFeed News, Yahoo News, NBC News, and Vox.com. Darian wants to use her love and curiosity for beauty to tell stories. She currently writes for the New York Times, Refinery29, teenVogue, and The Cut. You can find more of her work 

here

.