Brooklyn's Very Own 16-Year-Old Beauty Supply Store Owner
"I just want us to feel comfortable in a space where we spend the most money."
BEAUTY IRL is a newsletter publication run by

@darian

that covers beauty at the intersection of politics and pop culture.

If you're passionate about this world (and value journalism!), consider

a yearly or monthly

subscription

🧠⚡️💄
---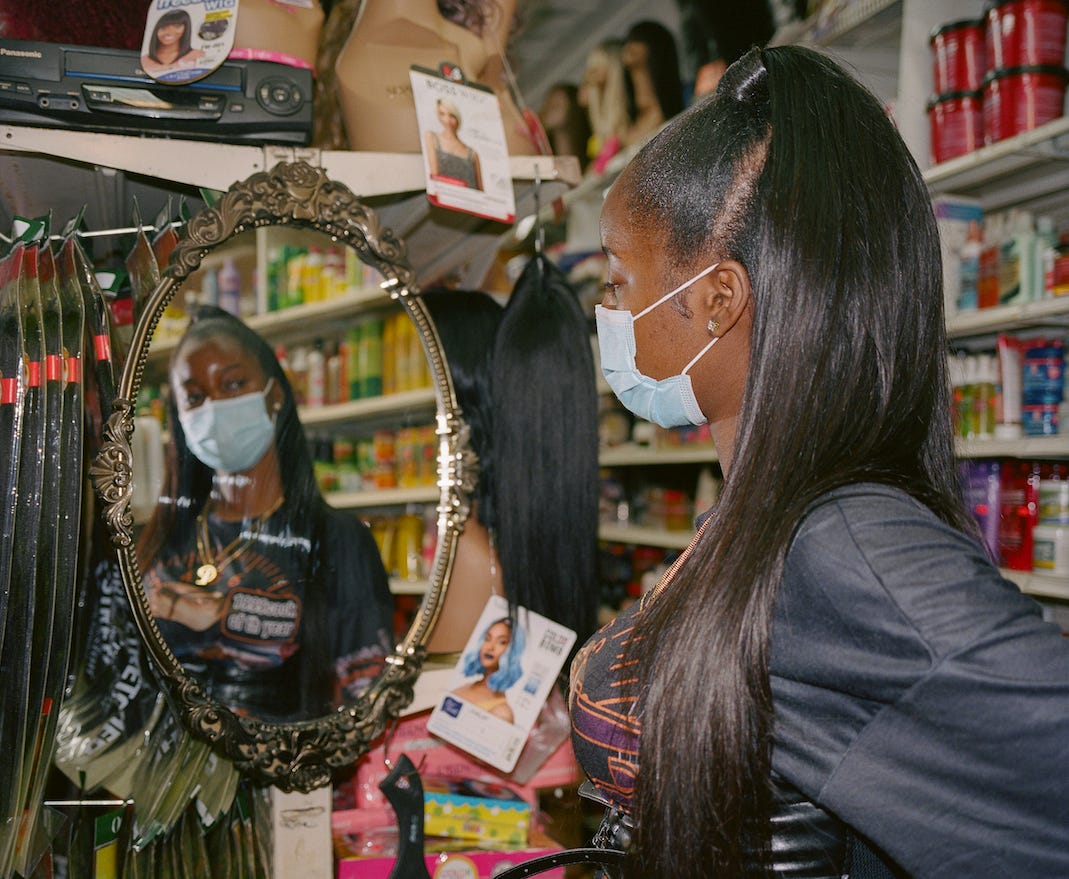 Photography by Sophia Wilson in East Flatbush, Brooklyn, New York.
Paris McKenzie is confident, industrious, and driven. She's the prototypical entrepreneur except for one thing: she's just 16 year old. 
In August, McKenzie officially opened Paris' Beauty Supplyz in the neighborhood she hails from, East Flatbush, Brooklyn. Her story went viral with the posting of a tweet proclaiming she's the youngest Black owner of a beauty supply store.
A first-generation Jamaican American, McKenzie grew up watching her mom, Senica Thompson, run businesses in Brooklyn (Thompson currently owns both a beauty salon and boutique.) McKenzie began working on her cosmetology skills at a young age in her mom's salon and quickly rose from shampoo girl to coloring and installing wigs and doing nails. She's currently a senior at the High School For Health Professions and Human Services and studying sociology at Hunter College. She has dreams of becoming an orthopedic pediatric surgeon.
The teenager saved money along the way, so she was ready when her mom mentioned that the family who owned the beauty supply store across from her salon was moving on. McKenzie acted fast, using her savings to take over the rent. Her brother helped her to set up an LLC and new accounts with product vendors.
About a week since her grand opening in September, I spoke with McKenzie about what's equipped herself to own a business in the multibillion-dollar beauty world, and why she wants to encourage other young business owners who are belittled for their age. 
Photography by Sophia Wilson. Edited Donovan Ramsey.
This interview has been condensed for clarity.
---
DARIAN
So, how are you? How's everything going?
PARIS
I'm a bit overwhelmed! I wasn't expecting all of this, but the business has been going really well. Academically, I've still been doing very well, so I guess I'm happy, but it's so much going on at once.
DARIAN
Tell me what you mean by "overwhelmed." Give me an example, you know what I mean?
PARIS
I have news channels coming to speak to me. People are watching my face, and it's mind-boggling. Now if I go somewhere, somebody might recognize me and that's the weirdest part about it. I never dreamt of me being that person. Growing up, I thought I would just be recognized as a doctor. It's all very new.
DARIAN
Well, I think the reason may be… one, as you know, there aren't many Black beauty supplies business owners*. But I also think that you being a young entrepreneur, it really makes your story unique. Your life is changing a lot quicker in ways that you probably weren't expecting. How did you grow up and how that has led to the place that you're at in your life right now — and having the beauty supply?
[*Only a third of at least 9,000 beauty supplies that specialize in Black hair care across the U.S. are Black-owned, the Black Owned Beauty Supply Association (BOBSA) told
Business of Fashion
.]
PARIS
I grew up very independent, you can say. My mother, she's an entrepreneur as well. She opened her first business a few months after I was born. I grew up watching her handle businesses and finances, so I pretty much knew what I was getting myself into. And since she was at work so often — seven days a week, took one day off a year — I pretty much had to grow up a little bit faster and it made me able to run a business at this age. Some people might say, "Oh, she's so young. She's not fully developed." But growing up the way I have, I've been mature enough to do this from probably 14, 15.
That was a huge part of my vision. To make us feel comfortable and not like we're being followed, watched, or accused of stealing
DARIAN
What did you grow up seeing your mom do that made you feel very confident that you could start running a business at 14?
PARIS
I picked up on marketing a product and selling a product, on the spot. I became very good at that because she also owns a boutique right across the street. So sometimes she would leave me in there by myself and I'd have to sell clothes, shoes, and jewelry for the day. I have a gift for selling things, and I have a gift for running a store.
DARIAN
How did the discussion or the idea around starting a beauty supply come to you?
PARIS
One day, I was sitting in the salon, I was doing nails and [my mom] came to me and she told me the people that own the beauty supply store were selling. So she asked me, "Do you want to invest?" And I was like, "Of course!" That would be something very historical and something that could inspire a lot of young girls around the world. So I felt like a great opportunity I could not turn down.
DARIAN
So when your mom came to you and said, "Do you want to buy it?" She was literally saying, "Do you want to buy this with the money that you've saved?" She wasn't saying, "Let's use my money and I'm going to give you the beauty supply."
PARIS
No, my mom's not that type of person because she knows how independent I've become from a very young age. Recently, in the past year or so, my mom hasn't bought any clothes or for me. I pay for my own lunch. I buy my own clothes. I buy my own shoes. Anything I want to do in my room, I pay for myself. If I want to travel, I pay for it myself.
DARIAN
What was your vision while planning to reopen the beauty supply under your name and ownership?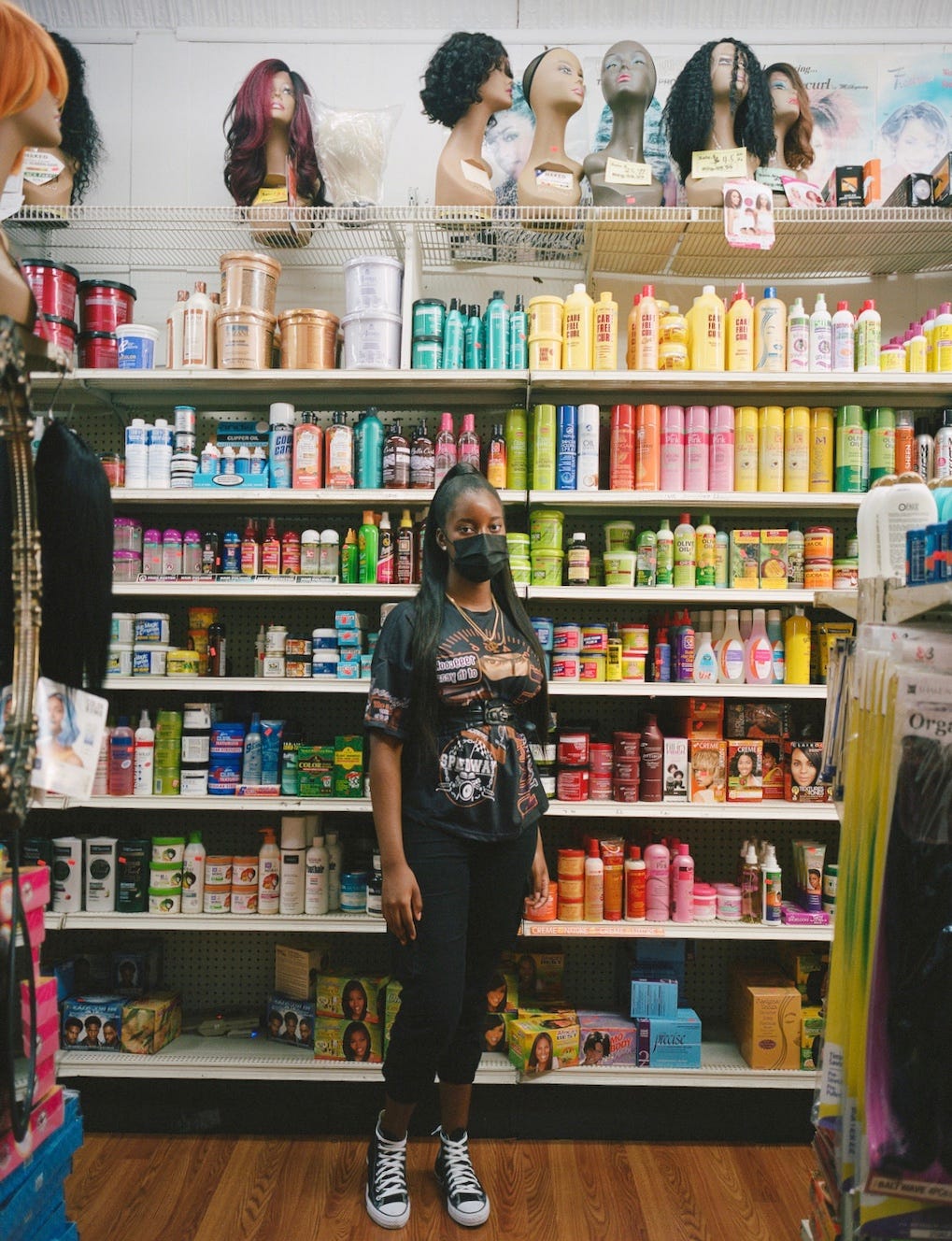 Photography by Sophia Wilson in East Flatbush, Brooklyn, New York.
PARIS
My vision was to have a place that was very accessible, affordable, and comfortable for anyone who walks in. If you're Black, you're white, you're Asian, whoever walks in, I wanted them to feel comfortable no matter what. And especially because I'm Black, I wanted to push more on the Black products and making Black people feel comfortable in an area that we very much frequent, so that's something I really wanted to do. That was a huge part of my vision. I just want us to feel comfortable in a space where we spend the most money, and not like we're being followed, watched, or accused of stealing. Another vision of mine was to inspire young girls, inspire women everywhere, at any age, but especially young girls. I have experienced people telling me that my dreams were invalid or I couldn't do it or laughed at me while I was working just because of my age. So I don't want others to feel the same way I felt.
I'm proud of how far it's come. We've gone from clogged walls and weird packaging everywhere. In the back, we have brick walls and wood floors. The carpet has been on the floor for 20 years, so I had to cover it immediately.
DARIAN
What does your mom think about your beauty supply and the momentum that it's gained?
PARIS
Well, my mom's Caribbean, so I don't really know what she thinks! A lot of other Caribbean children know this. You can fly to the moon with their own arms and your parent would just say, "Nice." You know? You don't really get that, "Wow! I'm so proud of you, and congratulations!" But I do feel the love though. She doesn't really verbalize it a lot, but I feel it.
DARIAN
Do you see beauty always being a part of your life, even when you go off to be an orthopedic surgeon?
PARIS
I feel like, because I was raised in it, it's something that I can't get rid of. Even growing up, people used to ask me, "Oh, you're going to do hair like your mom." I'd always said, "Absolutely not." And here I am like my mother: owning a store that focuses on cosmetology and beauty.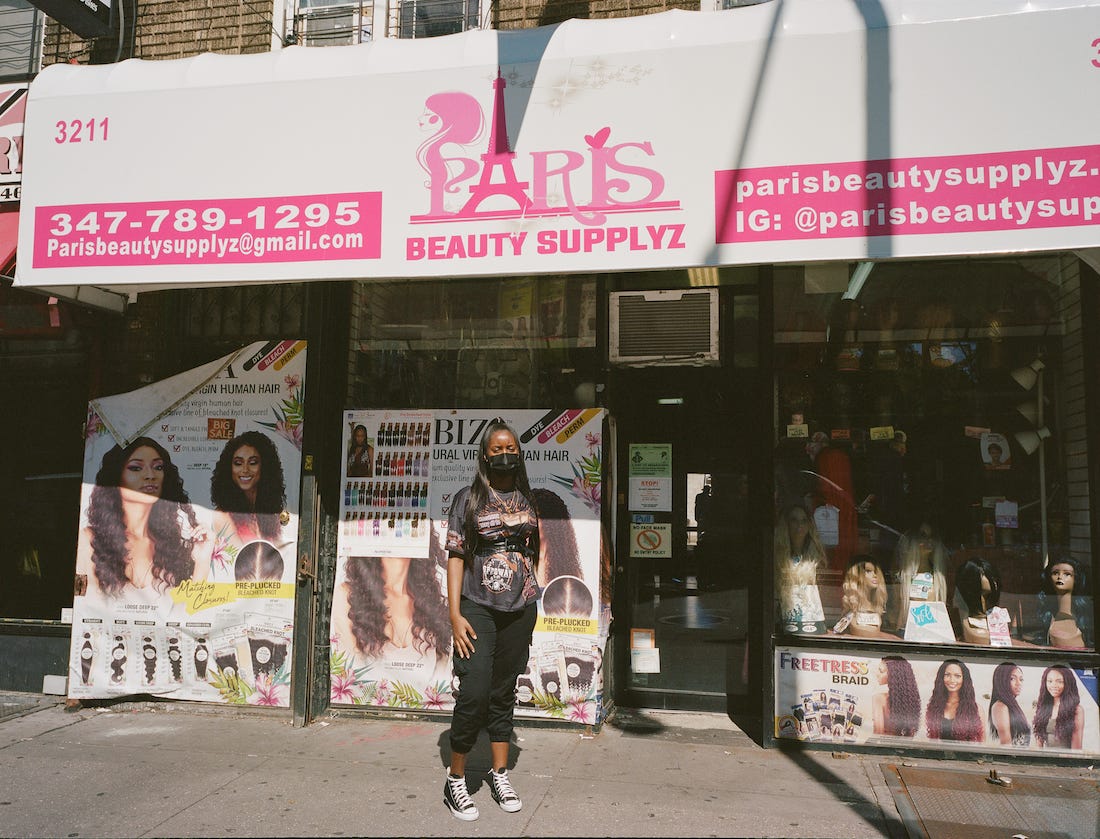 Photography by Sophia Wilson in East Flatbush, Brooklyn, New York.
---
ABOUT 

DARIAN

: This newsletter is written by Darian Symoné Harvin. Darian is a multimedia beauty reporter and social media editor using her journalism and curatorial skills to craft narratives and distinct takes on beauty, pop culture, and the intersection of both. So far, her career has been dedicated to working on thoughtful and virals ways to present news and content to people on the internet and IRL, for platforms like BuzzFeed News, Yahoo News, NBC News, and Vox.com. Darian wants to use her love and curiosity for beauty to tell stories. She currently writes for the New York Times, Refinery29, teenVogue, and The Cut. You can find more of her work 

here

.