Is beauty similar to streetwear?
A conversation between a sneakerhead and beauty addict.
Before we get started: Following the deaths of George Floyd, Ahmaud Arbery, and Breonna Taylor I have decided to put an emphasis on self-care, healing, and meditation workshops in this week's Beauty Bulletin. If you're white, there is also a resource to read up on within there. —
@darian
---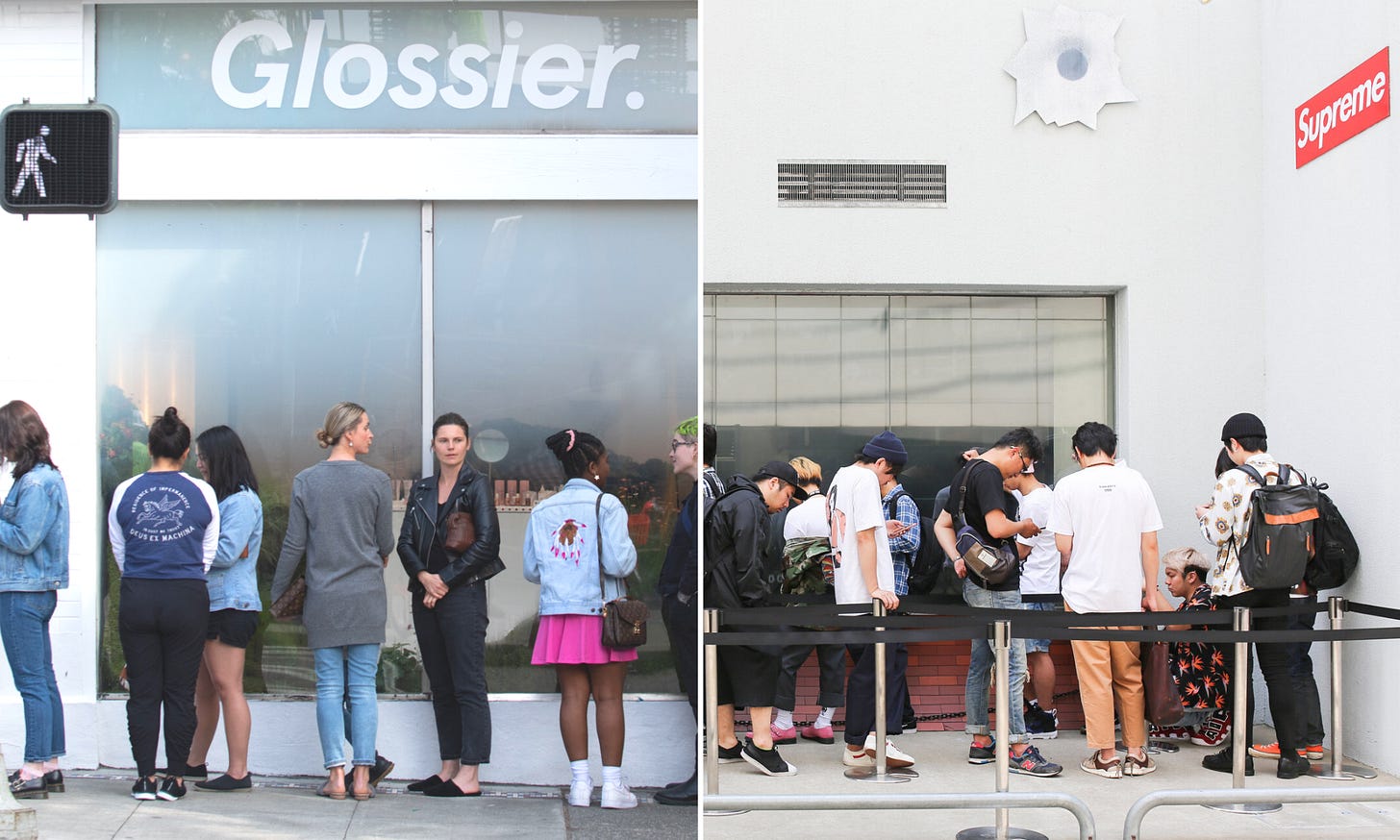 Left: Glossier's pop-up opens in Seattle (Image: Chona Kasinger /
Seattle Refined
) / Right: Andrew Faulk/ The New York Times.
When I first began to wonder if there was any correlation between the worlds of beauty and streetwear, I was staring at the line outside of the Glossier store on Melrose Place in Los Angeles. It's a small store. Still, there is always a line. When Glossier drops new products, there is always a longer, more exciting line. When I lived in New York City, I remember those lines outside of Glossier's flagship on Lafayette street in Chinatown, about three NYC blocks down from Soho, where the streetwear stores reside.
At the time, my brain was correlating the act of standing in line to put down money for a specific product (or marketing moment) to the hypebeast behavior we see among streetwear fans.
Streetwear collections or sneaker brands typically have a limited run, creating monetary and cultural value for years to come. Once it's sold out, that's it! Or, some items may be re-released years later. The resale market cheers. It creates an air of exclusivity.
This spring, I walked into Dover Street Market in downtown LA and perused their intentionally small, highly curated half-cube beauty section. Today, I received an email that Dover Street in Paris is expanding its beauty section with 11 brands. 
On the flip side, beauty brands will restock sold out items. But I'd see glimpses of streetwear marketing behavior here and there. In April, Fenty Beauty collaborated with a popular tea shop in China, HEYTEA, to drop an exclusive package around their Cheeks Out blush. The custom makeup bag was only available through a lottery for a limited amount of fans, and not sold in stores. 
I officially couldn't get the idea out of my head.
When I started to do more research on if my assumption held any grounds, I found a Business of Fashion article by their beauty correspondent Rachel Strugatz, and she brings up the NYC Glossier line, too, when referencing "What Beauty Can Learn From Streetwear."
Whenever I have a thought or idea based around what I'm seeing in the world, I start to seek out if there's any truth to it. My observations don't equate to facts, but they do serve as a launching pad to learning more. So, I begin to talk to others.
Enter my conversation with Yaya Mazurkevich Nuñeź.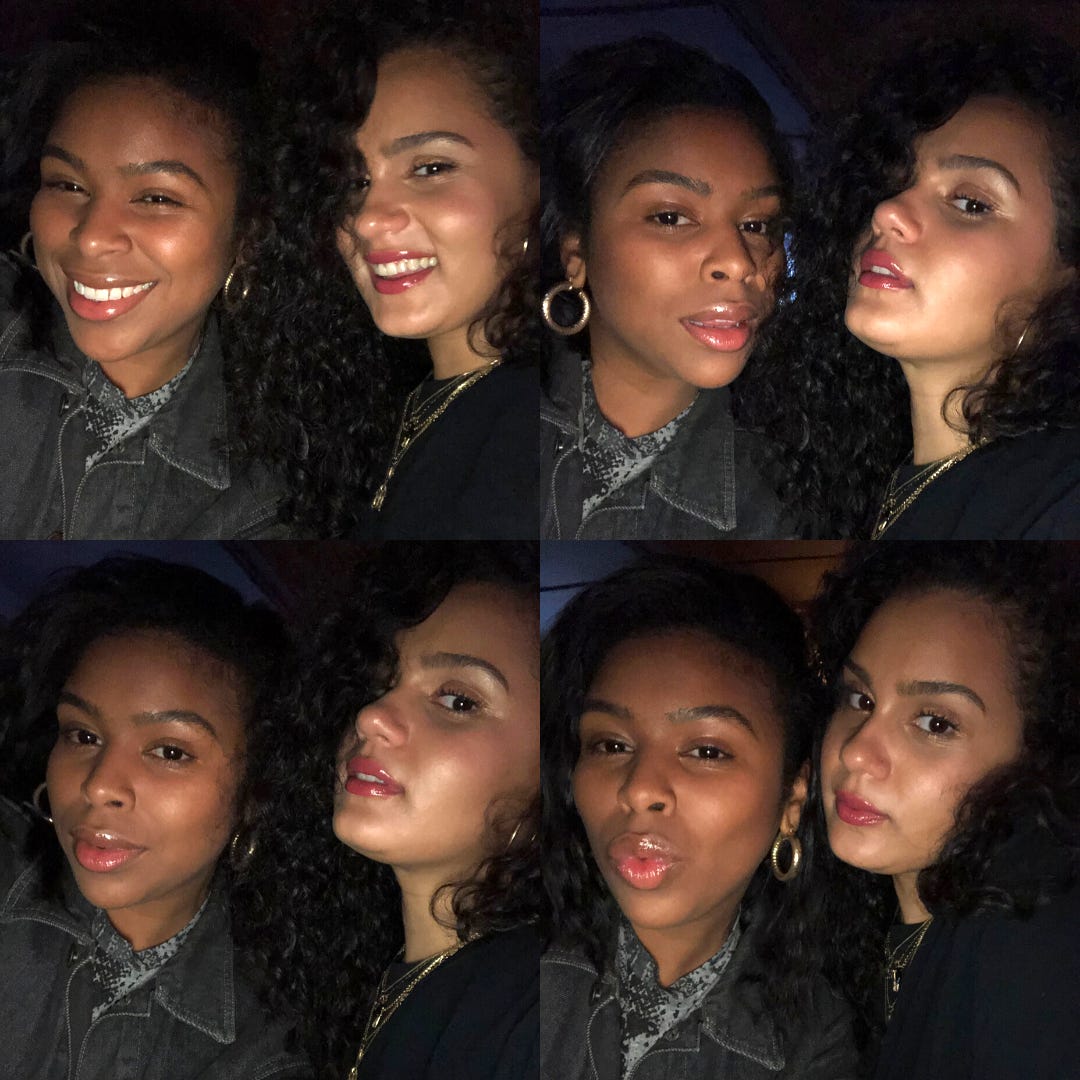 Yaya Mazurkevich Nuñeź is an experiential creative producer, marketer, sneaker collector, first-generation Dominican American hailing from the Bronx and naturally influential. She's worked with brands such as Concepts, Champs Sports, and Adidas. There are *so few people* I trust to talk about branding and consumer behavior in a very practical, realistic way because they have the experience to back it up, and Yaya is one of them.
Yaya is also, like me, a Sagittarius. I've known Yaya since I was in college, when we were Twitter friends. Then, eventually, our worlds collided once I officially moved to NYC, and we started to build our careers in media.
Here, I ask Yaya to indulge my latest thoughts to see if they hold any truth: are streetwear and beauty similar in consumer behavior and marketing tactics?
If you have an opinion, here is your reminder that there's a comment section at the very bottom!
BEAUTY IRL is a newsletter by freelance reporter Darian Harvin that covers beauty at the intersection of politics and pop culture, through breaking news, trends, and personal experiences. If you've learned something new from this newsletter, consider contributing to the digital tip jar. No amount is too small.
---
DSH: I think, for me, I started to realize more similarities between streetwear and beauty marketing and consumer habits once I started to get into sneakers again [1]. As I started paying more attention to sneaker drops, I realized the nature of exclusivity and hype felt similar to what I had engaged in with beaut for so long.
[1] In high school I started buying sneakers, becoming obsessed with Jordans (of course). In college, I went to study abroad, and put most of my belongings (including my sneaker collection!) into storage. The facility burned to the ground. Along with other items, I lost all my sneakers. I blocked the memory out of head and gave up on sneaker buying. The idea of "rebuilding" was too much!
YNM: It's all the same pain, all for FOMO 😭
DSH: Is that what is it? 😭 Say more.
YNM: Most modern marketing tactics for these kinds of consumers and these kinds of brands are based on that consumer's eventual FOMO. If a brand can create FOMO around the product using the proper marketing formula, you can create that hype release that gets people sad when they miss out on buying that "limited" product.
DSH: Is that why nostalgia plays such a huge part in the brands we see emerging in fashion right now? I don't see it happening in beauty (for example we aren't having robust convos about coping Estée Lauder foundation [3]) but for some reason, I correlate FOMO with nostalgia.
[3] In March, Estée Leader repackaged their best selling items with vintage logos in a PVC case with gold hardware, sold on KITH's site. It sold out within 3 minutes.
I think the makeup industry hasn't at all tapped into its full potential.
YNM: You connect the two because this kind of marketing plays into people's affinities. It connects the product to a personal part of the consumer. For streetwear, a lot of people, or most, can relate to wanting something they had when they were younger and reconnecting to it now, as a millennial 🙃. And also for beauty, the audience shrinks because not everyone in the population needs perfumed lotion as   they need new shoes. That deep connection to products in streetwear is not directly transferred in makeup because of the consumer changes. The makeup consumer market can't function the same because of expiration, but it can behave the same when it comes to "OG's" coming out as "Retros" [3]. Cult classics with a remix for iconic makeup brands can incite that in us but you can also get the same sales (bottom line) from your fave influencer putting together a premium palette with a brand. The affinity varies for the group according to age, sex, and interest, naturally producing different dynamics. There's a lot that goes into the final results of marketing efforts but basically different products call for different efforts.
[3] Examples of OG/cult products in makeup: NARS 'Orgasm' blush, Urban Decay Naked eyeshadow palette, Anastasia Beverly Hills Brow Wiz, MAC 'Ruby Woo' lipstick. Even seen one of those crystal Vaseline jars? Ha.
DSH: Really glad you brought up the eye shadow palette. At this point, brands have used the palette as a way to collaborate with influencers and create new products. In addition, they release palettes seasonally, in connection to a holiday, a festival, or a certain trend. I read about the fatigue beauty lovers feel around eyeshadow launches all of the time on Reddit. That said, the palette does serve as a talking point about 1. creating hype around a product and 2. how influencers use a brand and a product to make money and also connect with their fans. I think about the lines I've seen on YouTube outside of a Morphe store when James Charles dropped his latest palette, or outside of Sephora when Pat McGrath releases a new palette. Although the makeup expires, we are seeing packaging that looks for like, eventually, it could become collector's item among eyeshadow palettes. Maybe years down the line, it will be? I don't know.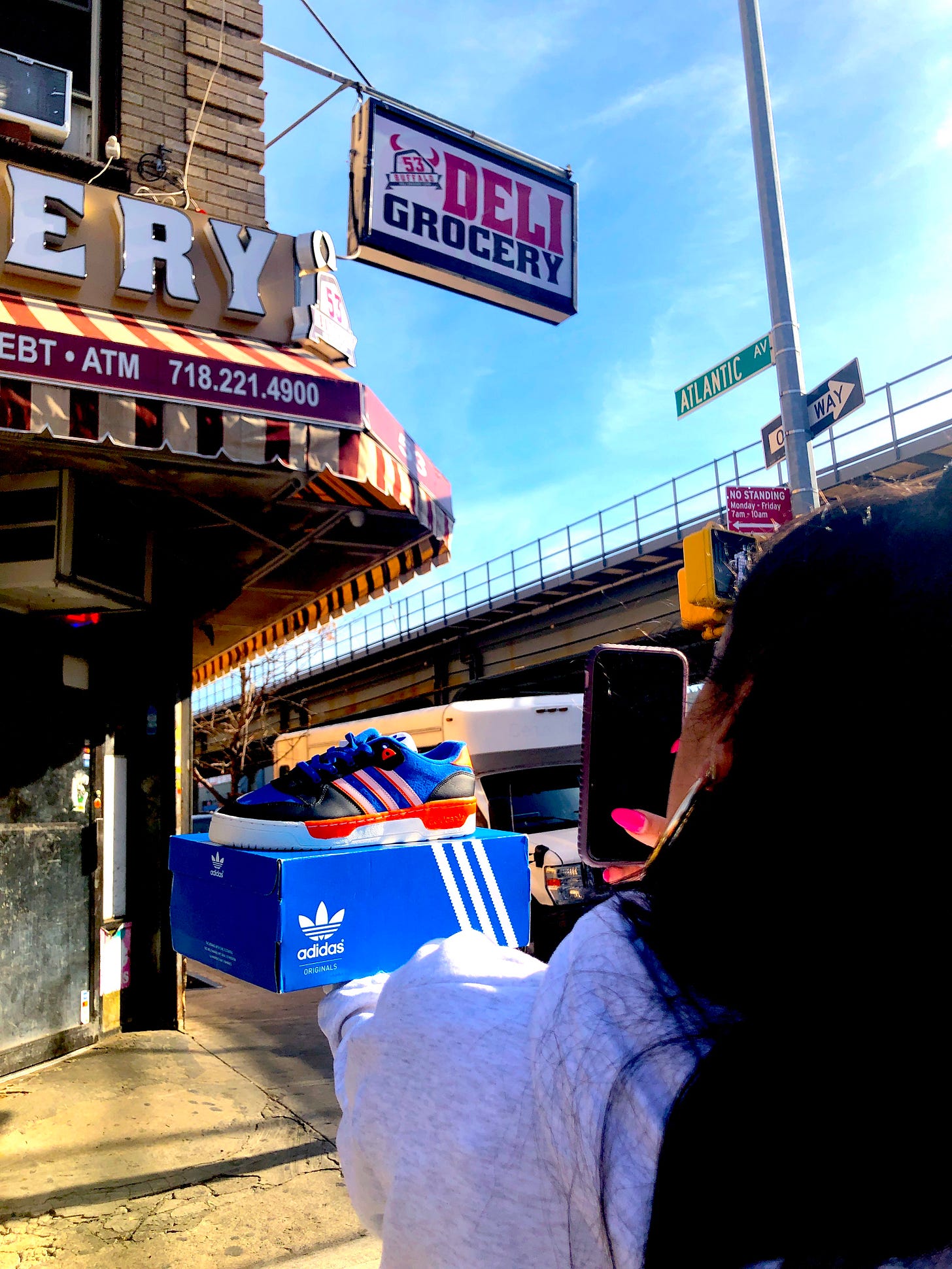 Yaya was part of a select few New Yorkers who were chosen to exclusively sell the NYC 
@adidasoriginals
 Rivalry Lo "The 5". 
YNM: It's really hard to tell if the makeup market has that kind of long term consumer affect like sneakers. A vintage Bulls t-shirt can go for a lot of money even if it's been worn by three different people over several decades. That can't be converted to makeup because all that you'd be buying is eventually unwearable. That would make no sense for the average person unless they were building some kind of display or maybe even history piece. In my collection, I may have 4-5 unwearables that I'll never get rid of because they were my first Nike's/J or certain models and such. The thought with streetwear and hype kicks is that if you're collecting them you're somewhat conscious of the long term value of lightly worn pieces. I don't think makeup consumers are necessarily buying with the thought on long term shelf life and resale value. When I sold you a pair of my sneakers and told you I'd only worn them once and they didn't fit me? Imagine a stranger trying to sell you some eyeliner she'd only worn twice a year ago 😖
I always talk about this concept of "beauty is one thing you have to show up for." To me, fashion is the same way.
DSH: Ah, okay. I see your point. Since a big driver of collectibles is to have the option to keep OR sell, both options don't exist for makeup as they do with clothing. At least right now. Anyway, I understand what you're saying. In what places do you see the strongest correlation between streetwear and beauty? This is me being my artsy self, but I always talk about this concept of "beauty is one thing you have to show up for." To me, fashion is the same way. You can see how a pair of sneakers may look through AI simulation, but it's not the same as owning the drip, and being out in public with a new outfit or pair of sneakers.
YNM: I think the makeup industry hasn't at all tapped into its full potential. The quick-strike strategy has been applied similarly to the streetwear industry but the industries are of different ages. In my perspective, it's only but up for both industries. It's hard to frame the two up against each other, and then at the same time not. Even the most basic of us need beauty products, and also footwear and clothing. So both have aspects of luxury and essential commodities. I think in the future the two will live closer together for sure. 
DSH: Okay so, essentially beauty and streetwear are not as similar as I'd thought. You are letting me down so nicely!
YNM: There's so much that goes into both industries that it's hard to pin the two against each other because the opportunities are exponential. I can see older men that collect kicks wanting to maintain youth and maybe going for some youth defying moisturizing situation and I can see others saying hell no. Both industries operate in service to capitalism so I don't see either going anywhere soon. I think you're onto the inception of something that's missing between the two if you're looking at the apex of where they meet. The two talk to the same people but in the patriarchy and machismo reality, we live in some time. The people at the top don't care to even hear the need for this kind of thought. They want the bottom line. Everyone has their dinosaurs that sometimes hold back that needed growth. But luckily for you and I, we can both be the advocates and creators for this change and we can all play a part in getting the brands to move like we want them too. And then this brings me to one of the pinnacles of sales, the customer is always right. ▲
I want my legacy to be something that's impactful. I want to change people's opinions about us and what we can do. Who's left an impression on you? What do you do with your
#airmax
? In partnership with
@nordstrom
and
@nike
---

This week's beauty bulletin is focused on healing and wellness resources for Black people.
Meditation + Breath Work
· MINKA often has meditations and healing workshops through their membership program and on Instagram live and Facebook.
· Simple breath work with Francine Madera ⤵️
· A reflective playlist by Steven R for Heal Haus.
HAUS VIBES ~ PLAYLIST II // A playlist curated by HH practitioner Steven Rousseau (
@brownstonewellness
). To listen head to link in our bio.
.
.
.
In classes this playlist allows students and myself to collectively stay present with the practice. It acts as a reflection of spiritual, emotional, and physical connection, encouraging the finding of our deeper selves.
#healhaus
#healingisalifestyle
· Crystal Tones Chakra Resonance Series, Vol. 1 "Heart Chakra", suggested by my pilates teacher, Dalette Anderson.
Thursday, May 28th
· 9 AM PST: Getting Back to Wellness & Business Virtual Bootcamp hosted by Be Well Beautiful Woman through Friday, May 5th. Eventbrite.
Saturday, May 30th
· 8 AM PT – 2 PM PST: Heal Haus' Virtual Retreat: The New Paradigm. Register. + HH's Instagram in general.
Sunday, May 31st
· 11 AM PST: Meditation; 6th Global Gathering for Peace and Healing led by Dr. Joseph Michael Levry. Free.
· 2 PM PST: VERSUZ: Kirk Franklin vs. Fred Hammond with opening remarks from Bishop T.D. Jakes. Instagram live.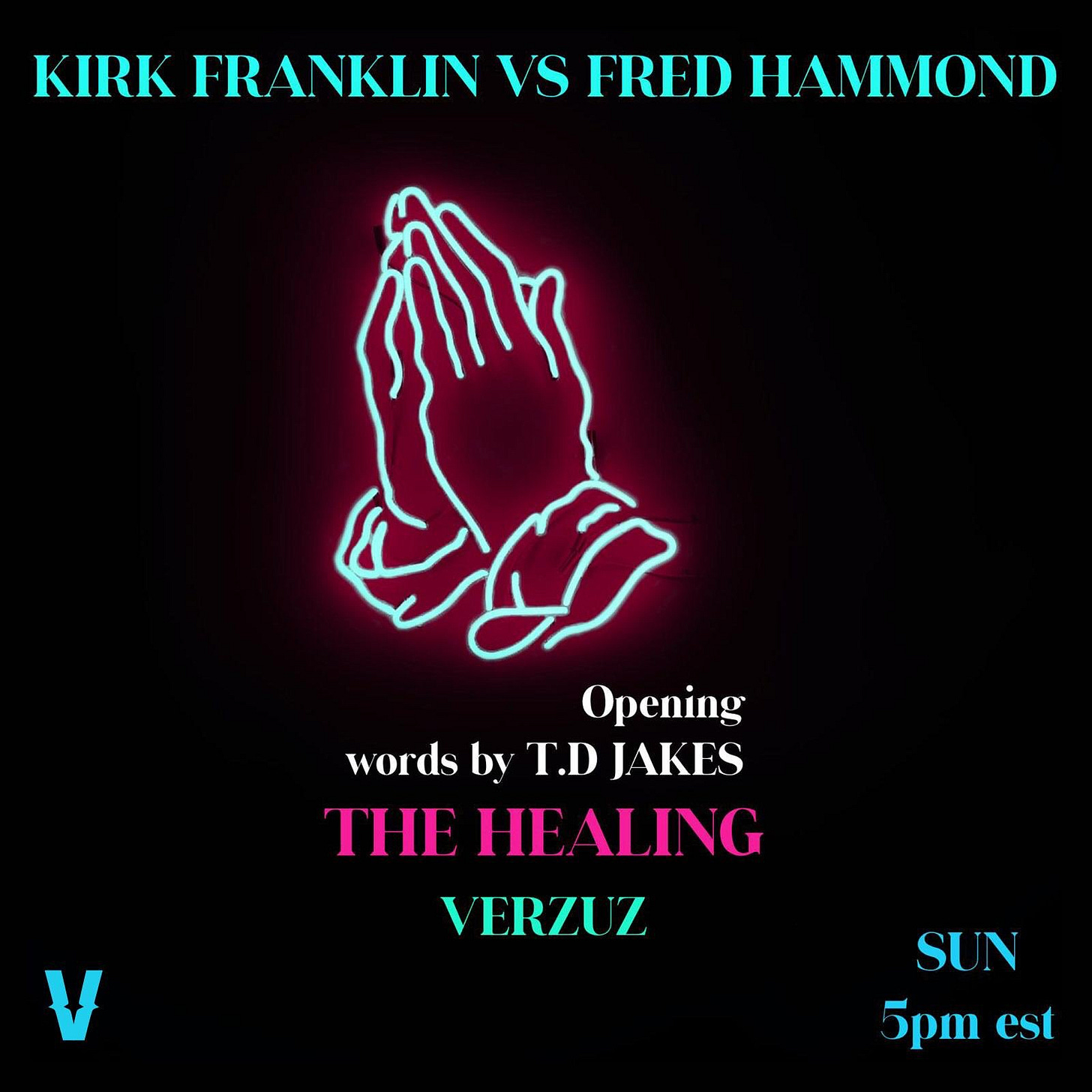 Wednesday, June 3rd
·  7 PM PST: Meditation with Joshua Dorfman. Every Wednesday. $11. Zoom.
RESOURCES
· Devi Brown's Instagram page and newsletter is filled with meditation resources and more.
· Sometimes I search sound baths on YouTube. Here is one of my favorites by Shana Nunnelly.
· For white people: Anti-racism resources compiled by two white women.
ACT + DONATE
· Donate to Black Lives Matter or your local chapter.
· For George Floyd: Here is Mr. Floyd's GoFundMe, started by his sister. Call DA Mike Freeman (612-348-5550) and tell him to ARREST & CHARGE these officers for the murder of Mr. Floyd.
· For Breonna Taylor 👇🏾
· For Ahmed Aubrey: Sign the petition.
---
This newsletter is written by Darian Symoné Harvin. Darian is a multimedia beauty reporter and social media editor using her journalism and curatorial skills to craft narratives and distinct takes on beauty, pop culture, and the intersection of both. So far, her career has been dedicated to working on thoughtful and virals ways to present news and content to people on the internet and IRL, for platforms like BuzzFeed News, Yahoo News, NBC News, and Vox.com. Darian wants to use her love and curiosity for beauty to tell stories. She currently writes for the New York Times, Refinery29, teenVogue, and The Cut. You can find more of her work 

here

.