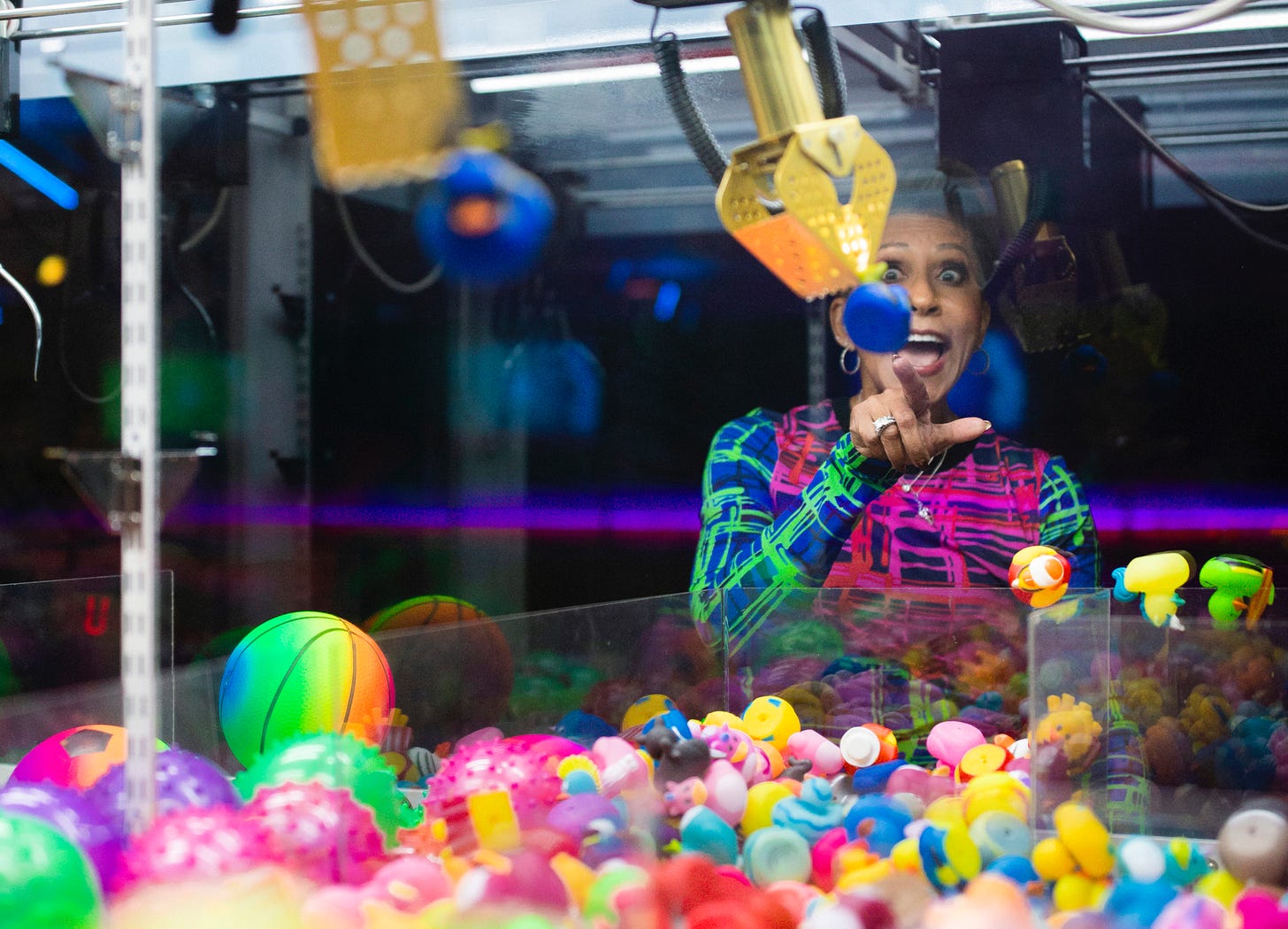 Photography by Jessica Lehrman for the New York Times at Northridge Skateland in California.
"This is what happens when you live in your purpose D. You carve out space for people to tell their own stories too. ❣️"
My friend Shanaé Burch responded to an IG story of my latest profile, Adrienne Banfield-Norris for the New York Times, with these words. More commonly known as Gammy, she is Jada Pinkett Smith's mother and the co-host of Facebook's most popular show, Red Table Talk. Her story is one of overcoming addiction and experiencing constant growth — while in the spotlight — as an older woman. I became interested in Gammy's story after I found out she roller skates twice a week. All of a sudden, I had a compelling pitch about a human with little press coverage, on a very "of the moment" show, plus a dope location.
I write about beauty. I try to stick to that. There are a ton of other worlds that need more attention by writers who aren't obsessed with free shit (such as streetwear and sneaker culture), but I try my very best to stick with beauty. I've done a lot of self work over the years to understand that staying in my lane, and learning how to expand within it, is better than trying to be good at five different things. I've come a long way, and I want to keep going.
Although profiling women like Gammy may not seem like a piece on beauty, my friend was on to something. Because I know my purpose, I can spot others who know theirs as well.
In my opinion, beauty and wellness are far more synonymous than beauty and fashion.
People who are in fierce pursuit of their purpose, path, light, happiness make the best subjects. It may not be beauty in the makeup-y, skincare-y way, but within the world of beauty are other elements: self discovery and self care.
Like, Tracee Ellis Ross, Gammy is in pursuit of the human experience. They listen to their inner voices, physical bodies, and have made the choice to be a student of life — and are sitting in the front of the class. They are always very good at finding the words to say exactly how they feel. Ultimately, these are the people I like to be in conversation with.
Onward,
[And! If you have not subscribed to the HRDlist yet — another newsletter I edit along with a team including Danyel Smith and Elliott Wilson — consider it.]
---
This week, I also published a piece on how COVID-19 is affecting Black hair stylists, and us! Their clients! PLZ enjoy the memes I found in the process of reporting on this story.
Once I find more virtual efforts that stylists are working on, I'll curate a list of what's out there, similar to this nails issue.
S E N D H E L P. @smilegena
She knows she's wrong. @sanovasimon
By any means necessary, period. @guin_gui
On the verge of tears. @junaebrown
You know what they say: Stay ready, so you don't have to get ready. @bnl_85
Why is Ari Lennox this way? 😩 @arilennox
This is me. @ogrilda_
Teacher said, "Is somebody gettin' their hair done?!" @shelbiplay2much
🥺🥺🥺. Yael Shapira Avraham